Samui Island, in Thai: KOH Samui, located in the Gulf of Thailand to the south, in the province of Surat Thani. Among the islands of Ko Samui Thailand – the third largest.
This island is different from other resorts in Thailand with its pristine beauty and untouched nature . This is – a kind of lost world . Here you can feel like Robinson Crusoe in the endless white beaches and coral , azure clear waters and coconut trees. Of all the resorts in Thailand Koh Samui pervobyten so that it does not even developed the production . Residents of the island foraged mainly fishing and coconuts are grown . It is curious that even stroitelstvooteley on Koh Samui is allowed within certain limits : no more than palm ( 2-3 floors ) , so most of the hotels on the island – the bungalow.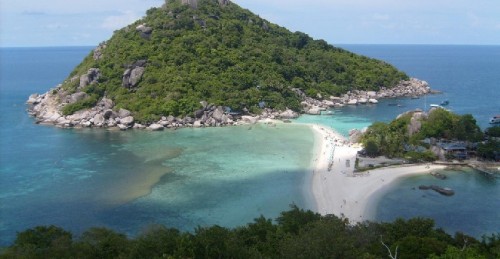 Koh Samui , Thailand The greatest wealth of the island – it's the best beaches of Koh Samui. On the east coast of Koh Samui in Thailand is a recreation area with Chaweng Beach . In this part of the island is a large number of famous hotels , many of which have direct access to the beaches of Koh Samui with one hand, and on the main street – the other. Here, shoppers will find a lot of interesting things in the famous stores , the night can be great fun at the disco "Green Mango " and " Reggae Pub" and eat well in restaurants , which offers exotic food . Chaweng – it presentable area of Koh Samui in Thailand. Calmer and less expensive – the southeast coast of the island to the beach Lamai or north of the island , where there are also hotels for tourists , although they are also a bit because this area is still little developed. Koh Samui in Thailand capital is called Na Thon , and it is located in the west of the island, located in the same place and the port. Here you will get if crossed with the ferry Surat Thani . Another way to the island – by plane from Bangkok , Phuket and Pattaya ( U- Topa ), where at the airport you will immediately be handed leaflets with description of its attractions. If you just want to relax and visit the paradise , choose Thailand and Koh Samui and stay here you will enjoy 100 percent !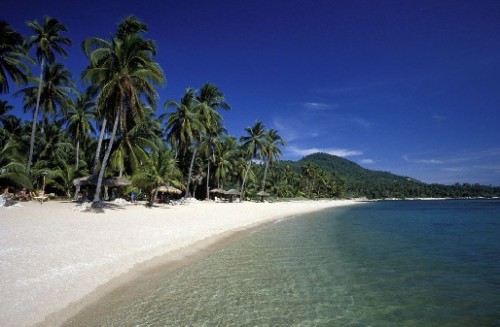 samui map with landmarks download 
Visa on Samui If you are going on vacation in Thailand, first check your passport – it must be valid for at least 6 months from the date of completion of travel, and have at least two blank pages. Russian citizens visa to Thailand are not required for stays not exceeding 30 days. When passing passport control procedures they put in the passport entry stamp, which contains the date by which they must leave the territory of Thailand. read more  Medicine in Samui Medical centers in Thailand and Koh Samui in particular provide a full range of medical services of high quality. On the island there are several general hospitals of different price levels, most of which is in the name of the prefix «International», which means their "sharpness" on the provision of medical services to foreign guests. In addition to hospitals in Samui are also small private physician offices with doctors specialization, prices are usually much lower. read more 
How to get to Koh Samui Anyone who decided to spend a holiday or even to move to live in Thailand on the island of Koh Samui, it is necessary to think about the route planning. So we decided to describe in detail how the airline can fly to Bangkok and how to get from Bangkok to Koh Samui. read more 
Food in Thailand There is a saying that Thailand – this is one big kitchen . And indeed, the locals are not only constantly chew something , but fried, boiled , soar . Yes and tourism in Thailand , not least so popular because of its stunning kitchen. Each dish is unique and depends not only on products but also on the personal style chefs , each of which it seeks to skillfully combine five tastes – sweet, sour, salty, spicy and sometimes bitter . Low fat , small cooking and the use of fresh herbs and exotic fruits make Thailand Thai cuisine also extremely useful. read more