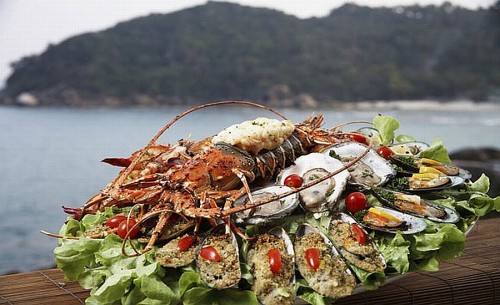 There is a saying that Thailand – this is one big kitchen . And indeed, the locals are not only constantly chew something , but fried, boiled , soar . Yes and tourism in Thailand , not least so popular because of its stunning kitchen. Each dish is unique and depends not only on products but also on the personal style chefs , each of which it seeks to skillfully combine five tastes – sweet, sour, salty, spicy and sometimes bitter . Low fat , small cooking and the use of fresh herbs and exotic fruits make Thailand Thai cuisine also extremely useful. Do not forget that in the preparation of many Thai dishes used hot pepper paste or chili , so be careful and do not forget when ordering utter the magic words «Not spicy» ( not sharp) . Despite the fact that Thais struggling to adapt to the tastes of tourists kitchen likely food in Thailand, you still seem to be quite acute . Especially if you eat somewhere not in a tourist spot . In addition to traditional Thai food , the island has many national restaurants offering dishes from different parts of the world , but for those who get bored at home suddenly , there are already two Russian restaurant where you can enjoy Olivier, soup, dumplings , yogurt and many other dishes . Samui also has specialty restaurants for vegetarians and even raw foodists ! Villas equipped kitchens, offering guests the opportunity for self- cooking with local products , the choice of which is simply huge, and prices of almost everything is much lower than Russian . Hypermarkets and markets the island can be purchased , perhaps all the ingredients for making our habitual food. Except, perhaps , buckwheat. Thai dishes recommended for tasting.
Noodles and rice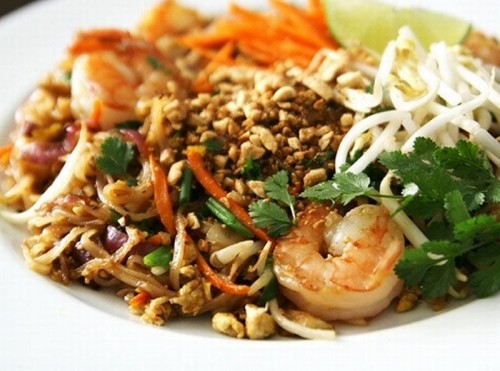 Noodles are widely used interchangeably with rice as a separate dish. It qualifies as roasted ( pad thai ) , and in the form of soup , noodles. Pad Thai – rice noodles with sprouts , cooked in tamarind sauce – is one of the most popular tourist dishes in Thailand. Can be ordered pad thai with chicken, pork , shrimp or vegetarian option with tofu . Served with fresh vegetables and roasted peanuts . Fragrant kau pad ( literally translated as " fried rice ") can be enjoyed in almost any institution. This mild dish , so it is safe to book for children. Consisting of rice, onions , spices and vegetables , grilled chicken ( gai pad kau ) , pork ( mu kau pad ) , shrimp ( kau pad goong ) or egg ( kau kai pad ) .
Soups
Thai soups are usually hot and spicy , and served not as an entree along with other dishes can also be served on a plate with rice. Tom Yam Kung. This aromatic spicy soup with chicken broth with shrimp and mushroom dish is number 1 for all tourists. To recommend this dish to order rice , as despite requests to cook it not sharp , often have to fight the urge to anything " extinguish" the fire in the mouth after its use . Tom Yam Kai – the same as Tom Yam Kung, only instead of shrimp added chicken . Tom Kha Kai. Soup with chicken , cooked in coconut milk with similar ingredients with Tom Yam , by the way , most of which is used in cooking , but do not go into the food . Soup its taste is very exotic and original !
Red curry, Yellow curry and Green curry
Curry – another very popular dish , which occurs in 99 out of 100 Thai Cafe ( and then only because one hundredth cafe – Thai McDonald's ) . In its fusion sharpness these soups left far behind almost all the dishes . Sharper green curry only red peppers in a pure form. They are prepared on the basis of coconut milk and spicy curry paste . Galore placed roots, hard spices. You then add chicken, pork or seafood and vegetables and a little herbs . There it better with the usual boiled rice
Fish and meat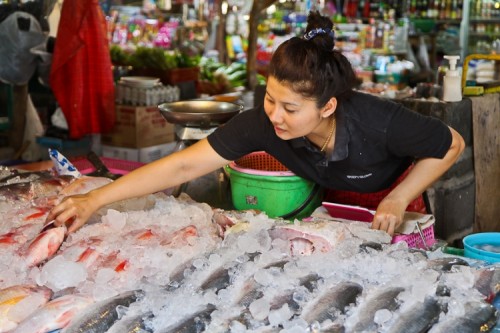 The next most important product after rice and noodles for the general population of Thailand is fish. Thailand – a country of sea and river , so here is almost universally common dishes from fish and seafood. In most restaurants on Koh Samui you will be able to choose a live fish , crabs , shrimp and other shellfish , you will immediately prepare them on the grill and served with rice and sauces. Meat is often combined in recipes with vegetables, rice or noodles , often used chicken, pork a little less . Beef is used much less frequently. Popular dishes of duck , especially holidays . Meat is usually fried , boiled or steamed stewed in coconut milk .
Salads
Like most of the dishes in Thai cuisine , local salads only partly resemble familiar European taste . Thai word yam, usually translated as "salad" , literally means "mixture" – and not necessarily just vegetables, as we used to . Among the usual Thai salad ingredients can be , for example, minced meat or fish , seafood pieces , roasted peanuts , dried bananas, sliced ​​ripe pineapple or green mango and more. This is complemented by special salad dressing , which include the inevitable fish sauce " nam pla " (responsible for the salinity of the finest fish and note) , lime juice , coconut milk , tamarind extract , etc. The best known representative of this category – Som Tam salad , green papaya cooked with the addition of roasted peanuts , dried shrimp , soy sprouts , slices of tomato , chili and other spices. Salad Yum Mamuang preparing for a similar recipe , but instead used green mango papaya .
Snacks
These delicious treats can be served as a separate dish , or in addition to other dishes . Of course, you should definitely try the Thai spring rolls – crispy rolls stuffed with rice noodles with vegetables.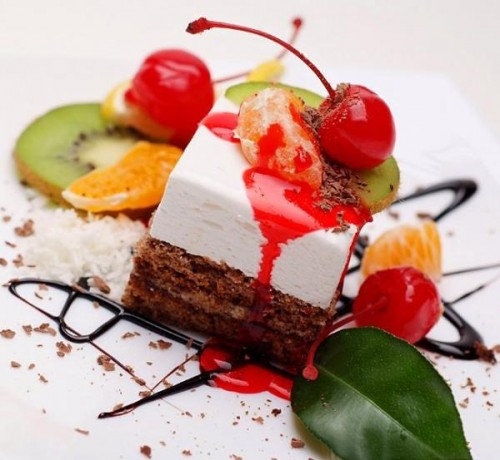 Treats and desserts
Thai desserts as main components include coconut milk, rice flour and palm sugar . For example, in the pudding Thai longan fruit whole palette of Thai glutinous rice cooked in spiced flour and salted coconut milk . Khao Nio Mamuang – the most common Thai delicacy made ​​from sweet rice with coconut milk and mango. Also, do not deny yourself the pleasure to taste sweet pancakes with bananas and chocolate. Thai Malay slightly modernized this recipe and now makashnits with pancakes spread throughout Thailand. Except bananas and chocolate pancakes are served with condensed milk , jam, pineapple and other toppings. Most importantly, what to eat in Thailand can be everywhere: in expensive restaurants with fine dining in Thailand, in the countless cafes on the shore of makashnits on the streets with the lowest rates in Thailand for food or for special judges at McDonalds . Bon appetit!